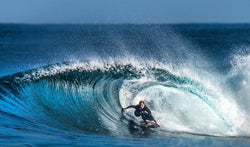 West Surfing
Coral 2x2 Long Sleeve Spring Suit - Back Zip
Style : Long Sleeved/Boy Leg Back Zip Spring Suit |  Size Chart
Rubber Thickness: 2x2mm
Temperate Range 15c to 21c
The easiest, most comfortable entry/exit system available.
Our next level CORAL wetsuits are designed for high performance surfing in challenging conditions. Constructed with premium neoprene rubber, our attention to detail on seam engineering and extra joint reinforcement enhances confidence and freedom. Designed with a boy leg cut to provide comfort and full length arms to keep the harsh sun off.
BUYERS OUTSIDE OF AUSTRALIA ACKNOWLEDGE RESPONSIBILITY FOR ANY LOCAL IMPORT DUTIES AND TAXES.